by Susan Huppert, NAMMA
Most Christmas gifts international seafarers are receiving are given through missions and ministries across the globe. Fortunately, at a time when charitable resources have dipped due to COVID-19, the Seafarers International House in New York is still greeting seafarers with Christmas cheer in the ports they serve.
Thanks to a grant received through the International Christian Maritime Association from the ITF Seafarers' Trust, Christmas satchels gathered and assembled by volunteers are being delivered to seafarers in the ports of New Haven, Conn.; Baltimore, Md.; Newark, N.J.; and Philadelphia, Pa. where dedicated chaplains from the Seafarers International House work to meet seafarers needs.
The Reverend Marsh Drege, Executive Director of the Seafarers International House appreciates the practical collaboration of international and local concern seafarers can witness.
"We work together because the seafarer is our ultimate concern. We add flyers to each gift indicating this so the seafarers will know there is strong partnership between the ITF and port ministries" he said.
The Christmas satchels include hooded sweatshirts, t-shirts, socks, a hand-knit scarf, large candy bars and a jar of peanuts. These gifts complement the types of gifts given by other port missions across the country.
The funds provided from the ITF Seafarers' Trust added an additional 40 satchels and helped complete the 1,800 Christmas gifts given this year.
"Last year we gave about 2,500 satchels," said Drege. "Although our numbers were down this year, we were taken by delightful surprise that a lot of congregations wanted to continue the project. The additional grant funds helped us expand what we were able to do. So we are really grateful."
The funds also indirectly expand ongoing support for those who work at sea as various churches and civic groups get involved in filling the bags. Many of the churches that participate are land-locked, unaware of seafarers and their plight as workers. Connections that develop with the Seafarers International House through this Christmas project educates and broadens support and care of seafarers, many of whom have been onboard beyond their contracts for more than a year.
"A by-product of Christmas at Sea is the educational piece," said Drege.
Before volunteers from Minnesota or North Dakota became involved, they were unintentionally ignorant of those who live and work at sea. They were unaware of the challenging life seafarers endure as they provide goods around the globe which benefit people like themselves. Giving gifts is a great introduction.
"The partnership has an advocacy piece too," said the director.
I remind people that seafarers are away from their families, confined to ships and that their gifts let seafarers know they are not alone. I like to personally thank those who help for the work they've done. It feels very much like Christmas."
"There are still so many people who don't know what seafarers do," said Drege.
The Christmas volunteers extend from the east coast to the mid-country in Minot, N.D. where a group of devoted knitters religiously click their needles to send about 75 hand-knit scarves to the Seafarers International House each year. Their devotion to those they don't know is impressive.
"There is something really holy about it," said Drege, who grew up as a child in the same Midwest congregation.
Meanwhile, a group of nine confirmation students in Stillwater, Minn. share religious studies together via Zoom meetings due to the pandemic. Their corporate motivation allowed them to individually bring life to their faith by assembling a satchel; a lone gift for a seafarer they don't know and may never meet.
The Christmas giving projects are a reflection of something much greater that happens globally. Thanks to missions like the Canadian outreach in Nova Scotia, strategically situated across the globe, care and concern are provided to seafarers personally and electronically whenever possible. Through online opportunities to "Chat to a chaplain" seafarers may temporarily break the cycle of limited human interaction and find personal support.
Mission Manager Helen Glenn is working overtime at the Mission to Seafarers providing Christmas gifts to those in the Port of Halifax, Nova Scotia. Most of her contact with seafarers is preceded by electronic communications due to restrictions regarding seafarers disembarking ships.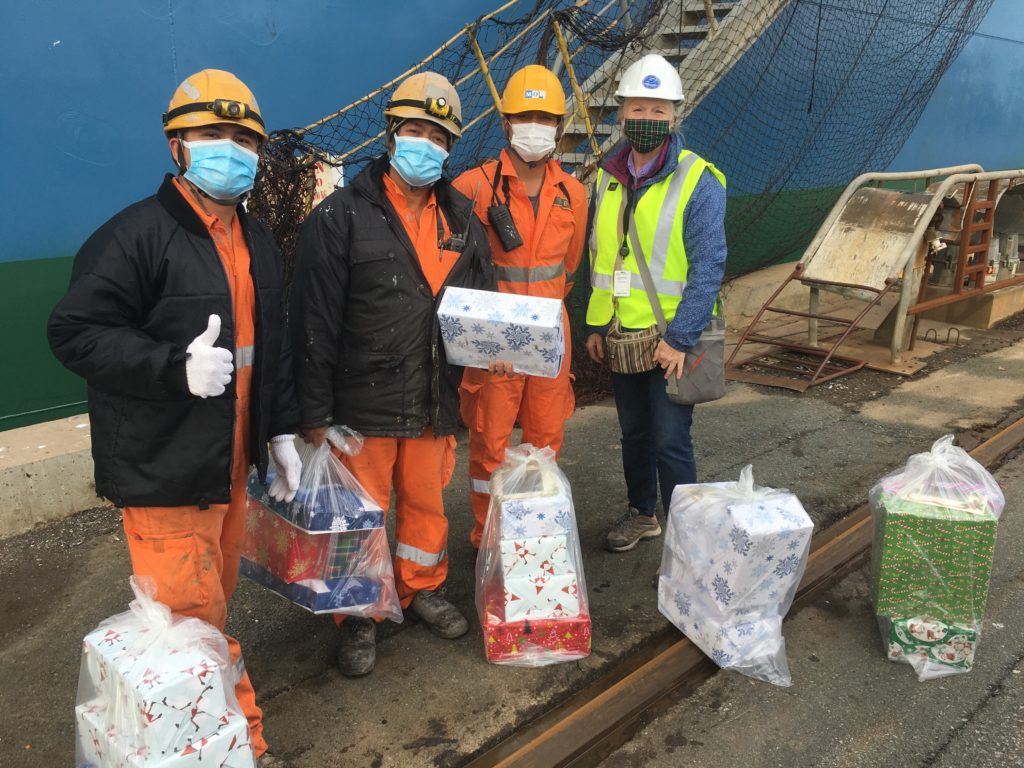 In the midst of buying shampoos and shaving creams she received a Facebook message from a young Filipino seafarer requesting a real candle. "My premature son was born in November and he died," wrote the young seafarer. Merged with the Christmas giving was an extended opportunity to meet an immediate pastoral need. Glenn collected candles and a rosary, held a memorial service in the center and created a link to share with the grieving seafarer, until he arrived in port.
Glenn's immediate mission is to distribute Christmas gifts to every vessel in the Port of Halifax during December, in addition to attending to any other needs seafarers present.
As aging volunteers and others with health concerns have stepped back from helping out due to the pandemic, she is taxed and delighted at the same time.
"Seafarers are joyful for the gifts they are receiving thanks to the ITF," said Glenn. "It has brought me to tears many times. The multiple notes of thanks from those on board are posted in the center."
Being remembered at Christmas is a highlight of a broader truth among seafarers. People care about you.
Merry Christmas.
Image: Crew of MV Rubin with port chaplain Ruth Setaro in New Haven (Seafarers International House)