by Susan Huppert, NAMMA
For seafarers' welfare missions to do their job well, they need to be in close contact with seafarers. To respond to needs, then need first to listen to them. Awareness of needs is essential as we care for others. But the global pandemic and limited access to the Internet compromise the opportunity to hear from many seafarers. Without the face-to-face contact traditionally available, the direct needs of seafarers pass by unmet in many ports. Thanks to forward-looking chaplains like the Reverend Eric Phinney at Saint John Seafarers Mission, new avenues have developed in the New Brunswick port where he serves.
Phinney had an idea to enable those working at sea to have instant access to the outside world when their ships dock in the Canadian port of Saint John.
"I happened to know people in the phone company and that some terminals desperately wanted to upgrade their Internet service," he said.
The chaplain also knew the conduit was already in place for improved Internet service. He contacted a terminal manager to discuss sharing an updated service benefitting the terminal and the ships near it.
"I negotiated the fiber optics and had it brought to the terminals and seafarers. It was a win-win for everyone," said Phinney. "I worked with our existing partners to get a strong robust connection. With transponders situated near the docks we were able to expand our service to seafarers virtually."
Today, as seafarers log onto the free Internet, a landing page appears that offers the seafarers direct links to information about services that the local seafarers' mission can provide. This provides direct access to immediate services they may need without cumbersome searching.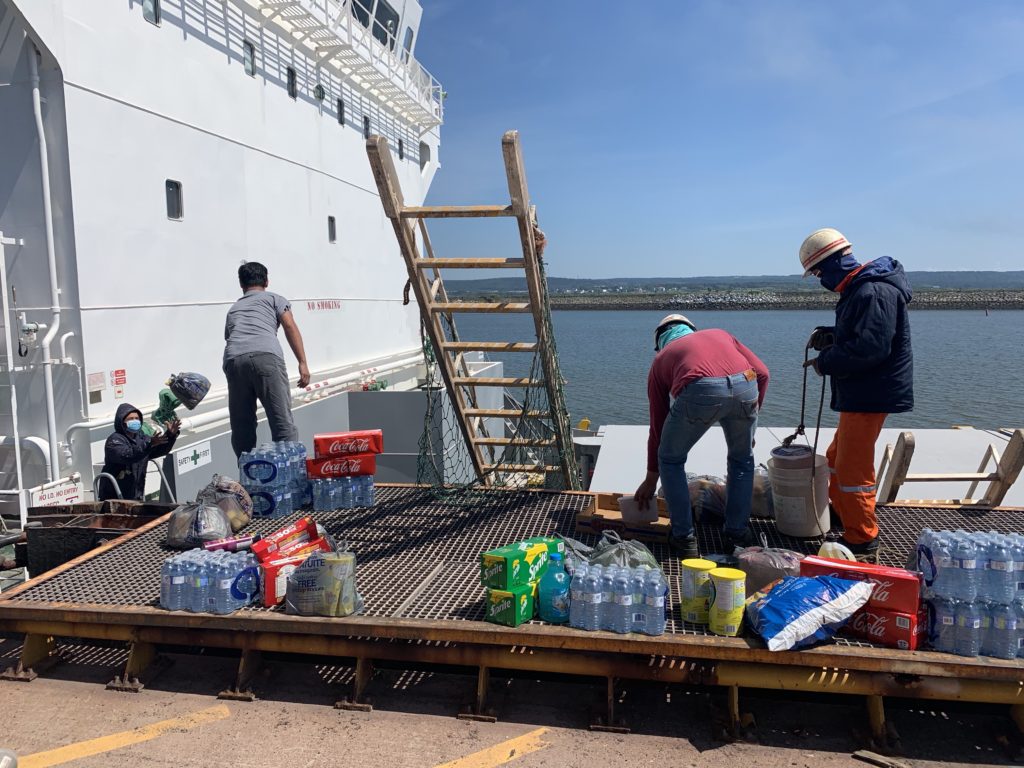 The landing page offers seafarers a place to create an account at Walmart to do online personal shopping and have much needed items delivered to their vessel by the Mission. In addition, those engulfed by the isolating effects of their profession, now compounded by a global pandemic, can find emotional and spiritual support through easy access to chaplains from the webpage. The ability to connect with families using WeCare, a program addressing the wellbeing of seafarers at home and at sea, or WhatsApp and other supportive services are easily accessible. Links to organizations or options directly benefitting seafarers are also provided.
The Port of Saint John is Eastern Canada's largest port by volume. It handles an average of 28 million metric tons of cargo annually, according to its website. The Mission creates strong relationships within this global exchange, evident as the seafaring community is a focus of Port Saint John's charitable giving through the Seafarer's Mission.
"Considering the industry-wide crisis facing seafarers, Port Saint John recognized pier-side WiFi was more relevant and important than at any time in the past. This meant that pier-side WiFi became a top priority, and establishing WiFi became a critical project Saint John designed to improve seafarers' opportunities for social contact and a lifeline to home, family and friends while seafarers are in port. We also realized, given the technological, financial, and urgency of need implications, the Mission needed a helping hand to make this a reality," wrote Chris Hall, Vice President, Operations & Harbour Master, Port Saint John.
Other maritime ministries should take note of the work in Saint John. Perhaps they might suggest an upgrade to the Internet services for seafarers in their respective ports also. However, to motivate others to do this is not just to figure out the technology, but we need to tell the story of why seafarers find an Internet connection and the possibility to do some shopping so valuable.
"Most of the work is simple tasks that cost us little but makes a huge difference in a seafarers' life," said Phinney.
The beauty of our Mission work among seafarers is the opportunity to share their stories with the rest of the world. Giving voice to an unseen population is our gift. Using the principles of developing genuine relationships, listening to and telling the stories of the seafarers' lives, sacrifice and service and seeking a response from the hearers can lead to exciting benefits.
"What I love is the leverage effect," said Phinney. "With a little bit of effort I can move mountains for these seafarers."
"We hear their stories and we tell their stories," he said. "It makes me feel good."
About NAMMA: With members in more than 50 ports around North America, NAMMA's mission is to support those in maritime ministry with professional development, fellowship, and advocacy. http://namma.org/
Images: Courtesy Chaplain Eric Phinney, Saint John Seafarers' Mission