by Jason Zuidema, NAMMA/ICMA
These last few years have marked a distinct advancement in the history of seafarers' welfare. For the first time, seafarers are reaching out and being reached out to from across the world in thousands of conversations a day.
In 2022, the MLC, 2006 was amended to explicitly include 'social connectivity' among the amenities to be provided. Numerous shipping companies have announced that they are in the process of increasing internet onboard. As seafarers can communicate more, local port chaplains and ship visitors have used email, websites, social media, or online messaging systems to stay in touch.
In addition to this, many organizations also have specialized digital tools for better communication and wellness programs on board. These specialized techs can help support seafarers while at sea and put them in touch with port-based teams before they arrive.
Numerous academic and popular studies have charted the growth of wellness resources for seafarers, especially during and since the pandemic. Lockdowns and restrictions on in-person contact, after all, were key catalysts for many of these programs. But while some have been discontinued after reopening, others have remained and grown.
Most apps provide some sort of combination of pre-downloaded mental health advice with chat lines for connecting with welfare workers through wi-fi or data. The Isle of Man Ship Registry's Crew Matters app and the ISWAN for Seafarers app are good examples of this. The ITF has three apps: one for looking up ships and contacting inspectors, one for welfare advice, and one for finding seafarers' centers.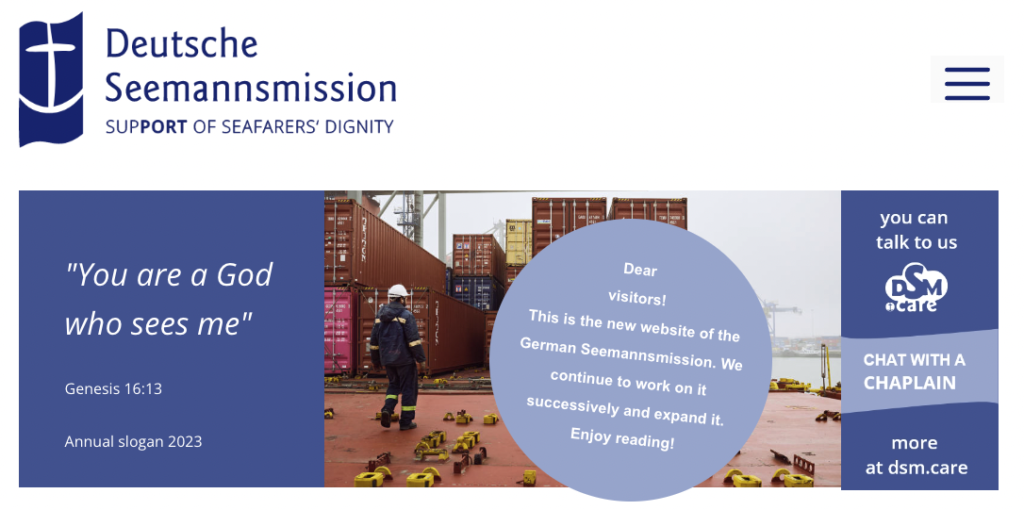 Welfare ministries have also developed technologies of their own. Stella Maris has a newly-refurbished app for finding ministries, prayers, masses, and getting emergency help. Deutsche Seemannsmission has DSM.care on its website for seafarers to chat directly with DSM personnel or learn about services in ports worldwide. The Danish Seamen's Church and Church Abroad has a WhatsApp site, Samtaler til Søs ('conversations at sea'). There are hundreds of other apps, improved websites, or social media feeds with information and advice for seafarers' wellness.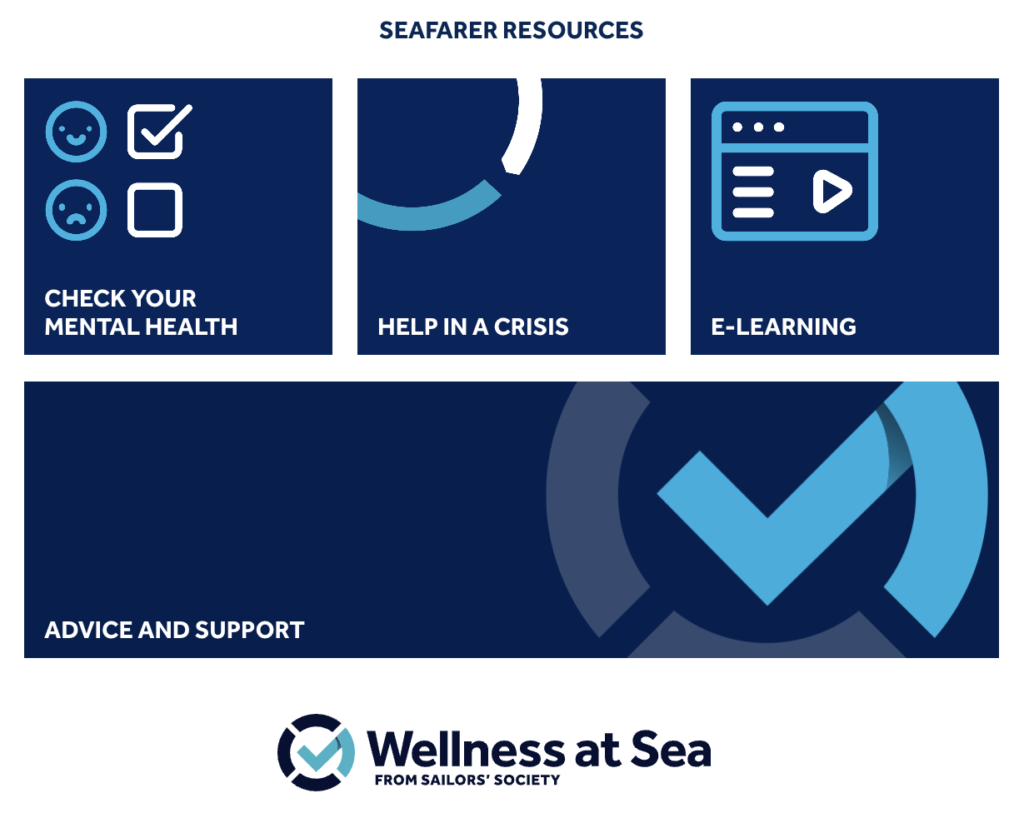 This year, the Sailors' Society switched its focus to 24/7 virtual support. Central to that effort is the ongoing Wellness at Sea program with online training, peer-to-peer support groups, and helplines. Wellness at Sea also offers virtual conferences for maritime schools, set to welcome 6,000 cadets in 2023.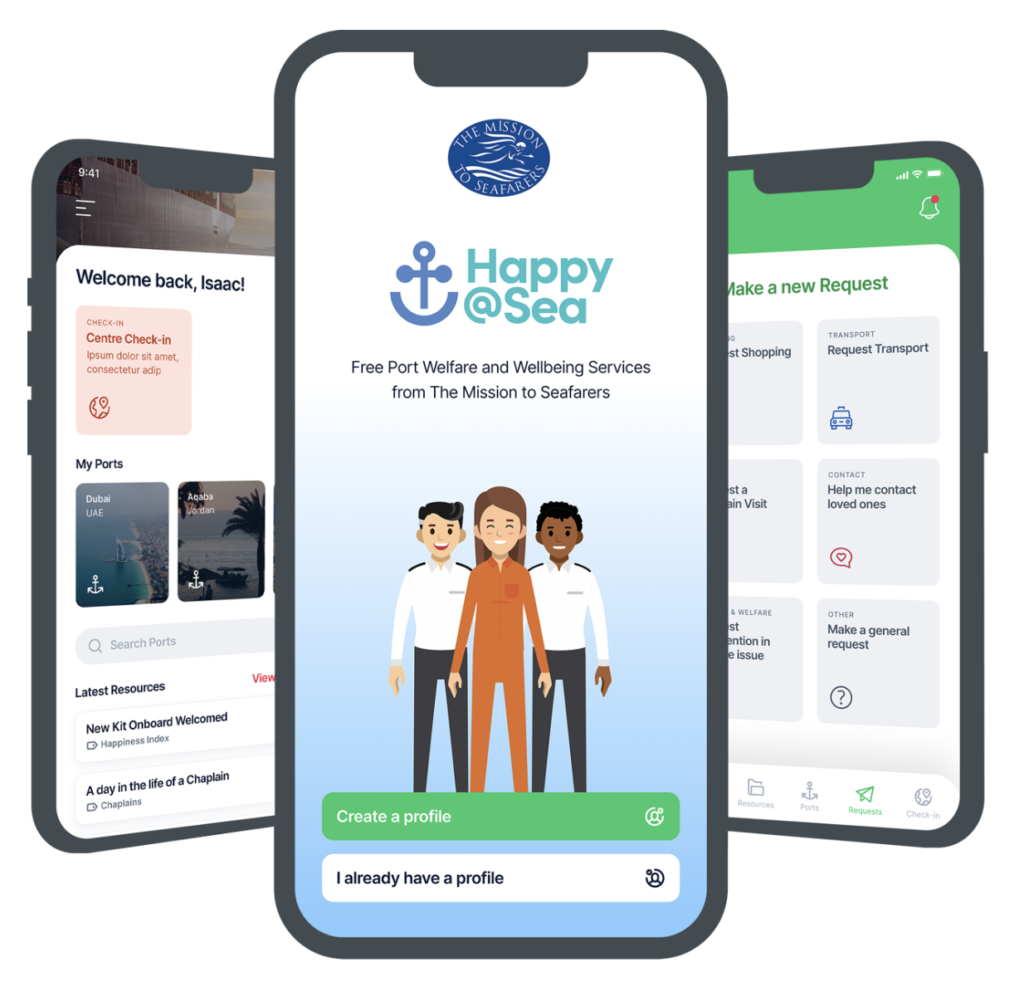 The Mission to Seafarers launched its Happy@Sea app at Nor-Shipping 2023. Announced as the world's first "digital seafarers' centre", the Happy at Sea app "empowers seafarers to take charge of their port welfare needs and safeguard their mental health."
All of these resources can be useful for seafarers to stay in touch with those who stand by to help. With ever-changing technology and expanding Internet access, significant new advances in communication might be right around the corner. In the meantime, seafarers' welfare organizations have produced an amazing array of digital resources to serve seafarers on board.
Image: David Rider/NAMMA