From March 9-11, more than 50 participants took part in a conference on the future of seafarers' welfare at the Brentwood Hotel in beautiful, windy Wellington, New Zealand. The conference theme, "Winds of Change", helped participants understand their current identity and partnerships, but also practical suggestions for future development. The point was not just to understand challenges, but, especially, to seek concrete solutions. Participants represented The Mission to Seafarers, Apostleship of the Sea, and other partners from New Zealand, Australia, and Tahiti. A good group were newcomers, but a number of participants attended the regional meeting in Sydney, Australia last February 2019 and also a certain group attended the ICMA World Conference in Taiwan in October. Speakers included those from Maritime New Zealand, the ITF, and ICMA.

Many challenges and solutions were considered in conversation. No doubt, a threat that was often evoked was that of the Coronavirus. This current threat helped focus our discussions, for it gave a crystal-clear case study in why information sharing and collaboration are so vital for our success. How we marshal resources to respond to this current pandemic, can be instructive for how we might respond to all challenges that are before us. The value of working together and keeping partners in the loop was clear. In this crisis, but also in any other situation, we can profit from open lines of communication with government, industry, labour and any other partners that can contribute to the welfare of seafarers.
The conference facilitator, Mr. Graham Millar, propelled conversations throughout. The heart of the work was group discussions around the tables in the conference room. Each session, Millar gave a brief introduction and laid out a key question that would then be debated around the table. For some questions, table participants had to list responses on posters that were hung around the edges of the room. For other questions, table participants were challenged to come up with one answer that they thought best responded. The questions focused on the importance of understanding ourselves, our partners, the concerns of seafarers, and how we could improve the work that we do.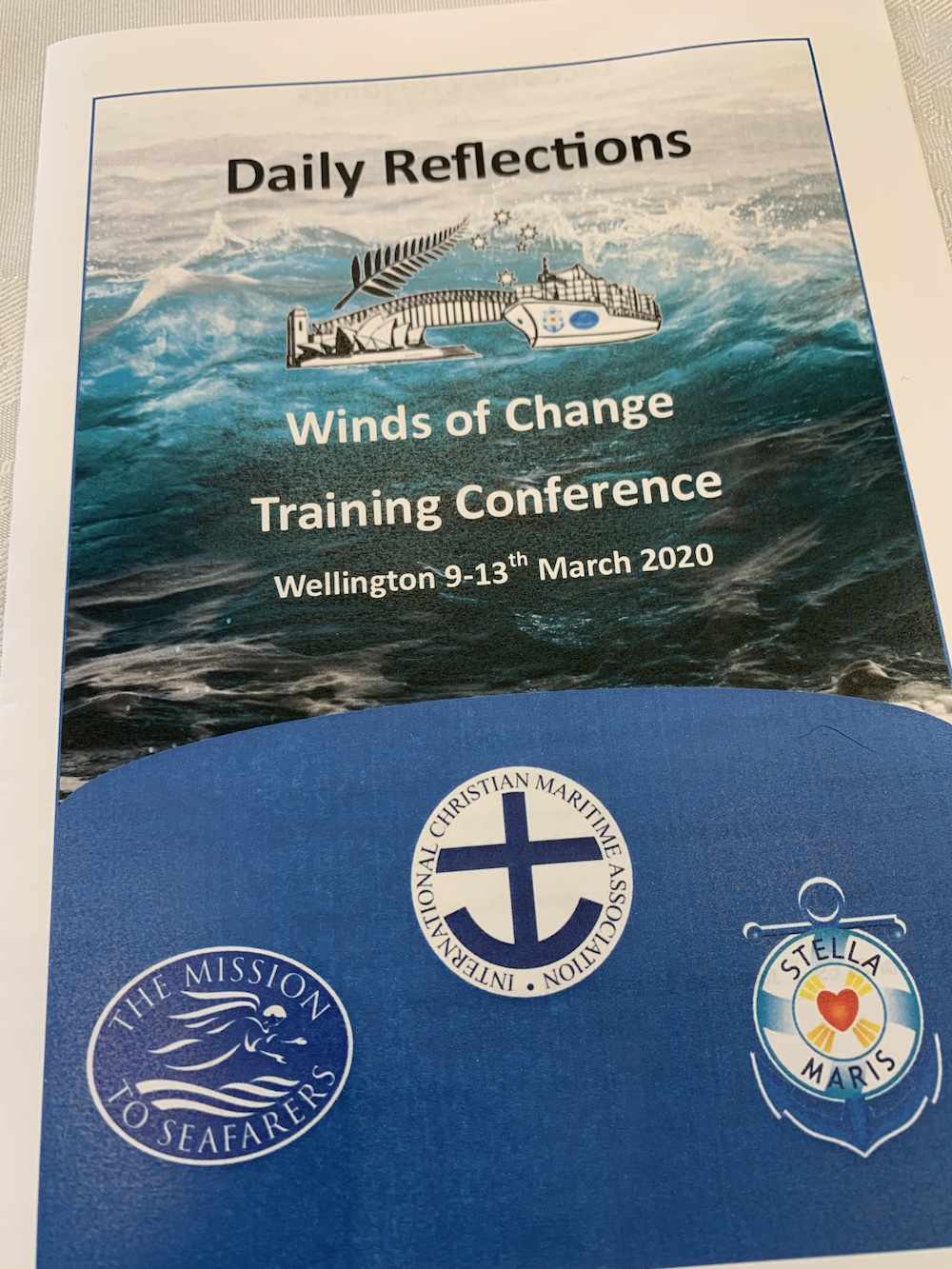 Each day started with a short time of prayer. On the second day of the conference, Sr. Mary Leahy provided a meditation that mixed music and photos with the challenging question, if we don't speak for those who are exploited, who then will? This prompted stimulating discussion around the tables that encouraged us to put ourselves in the place of seafarers, to think of what seafarers what seafarers might want. Having come up with a list of improvements seafarers might wish, we discussed how we might better serve them with the resources that are available to us.
Conference organizers included Fr. Jeff Drane, AOS national director for New Zealand, Rev. Lance Lukin, MTS national director for New Zealand and the Pacific, Roslyn Rajaisingam, AOS national director for Australia, Rev. Garry Dodd, MTS national director for Australia and Papua New Guinea, and Sr. Mary Leahy, AOS regional director for Australia and Oceania. Support for the conference came from local and national sources, but also the ITF Seafarers' Trust and the TK Foundation.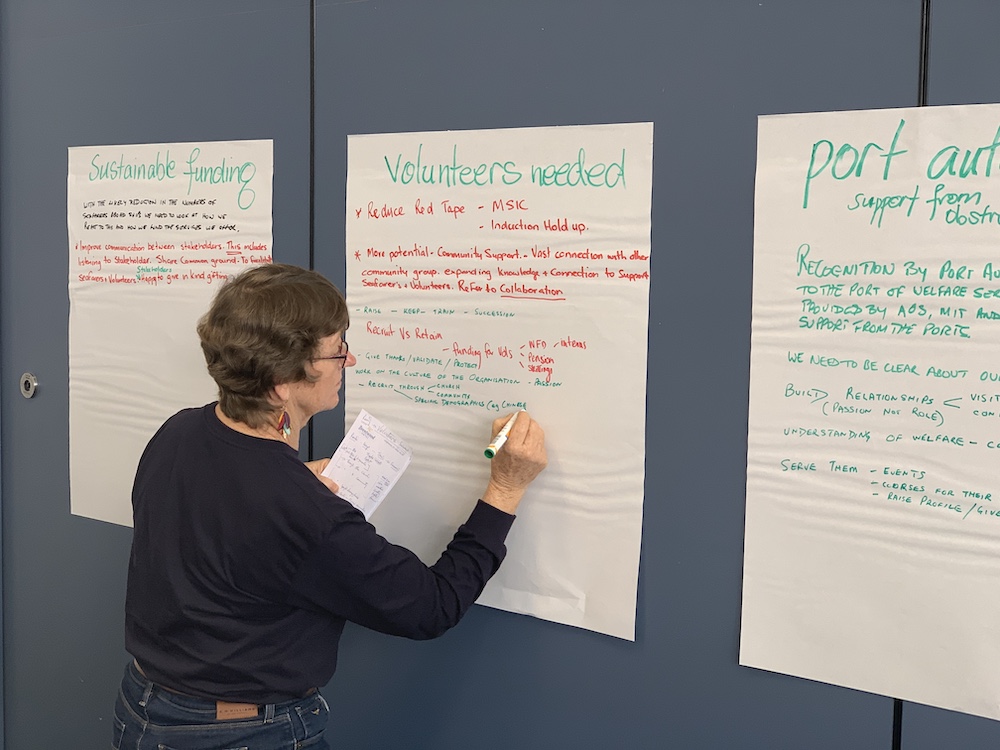 Per normal at this type of conference, some of the best work was done during coffee breaks and meals. Building bonds of trust and friendship between seafarers' welfare workers over a coffee or meal often pays off with practical impact in the lives of seafarers as information sharing and collaboration are much easier once people know each other. With last year's meeting in Sydney and this year in Wellington, there is a clear sense that solidarity is growing in the region and that the investment in bringing people together will bear practical fruit.
On the final day of the conference participants focused on action steps going forward. The most important was that all representatives would return to their home ports and encourage the improvement or establishment of port welfare committees. Second, more information would be shared within the region by email, but also social media. Finally, there was a commitment to meet again in 2022. That meeting would seek to partner with more industry, labour, and industry, but would also be recognized formally as the meeting of ICMA in Oceania.