On June 17, NAMMA's membership gathered via GoToWebinar for the first online Annual General Meeting in its history. The meeting had to be taken online because of Coronavirus; earlier in the year the NAMMA Board had cancelled the 2020 annual conference, where in-person AGMs had traditionally held. At the same time all other in-person meetings were cancelled until further notice. The conference was to have been held in Ottawa during the month of April.
Outgoing Board President Rev. Marsh L Drege (New York) welcomed participants to the meeting, and Rev. Gary Roosma (Vancouver) serving as Chair of NAMMA's Ecumenical Committee, opened the meeting in prayer. Outgoing Secretary Sharon Emerson (Corpus Christi) presented her minutes which were reviewed and approved, and then Treasurer Rev. Stephen Cushing (Boston) presented on finances. NAMMA can be deeply thankful to have stable finances during the present pandemic.
Voting for the meeting had happened in the previous 48 hours via the SurveyMonkey online system, which allowed a secure way to give every member an equal and anonymous vote. Dcn. Paul Rosenblum (Charleston) was elected the new President and Dana Blume (Houston) the new Secretary. Board positions went to Rev. Eric Phinney (Saint John) and Sharon Emerson. We expressed thanks to Rev. Daniel Phannenhour (Hamilton) for running in the election as well. Hearing the about the importance of NAMMA from each candidate's own voice and experience was one of the meeting's greatest highlights.
Executive Director Dr. Jason Zuidema then gave updates on various NAMMA programs, especially developments in using new technologies for online meetings and professional development. He drew attention to the maretraining.com initiative that began last year and has grown in size this present year. Jason spoke about the renewed link with the Houston School, which NAMMA has now managed for the past two years. In an important development for our Canadian members, he shared that regular online meetings were taking place in Canada to organize seafarers' welfare.
Following the business portion of the meeting, we had several important program updates. Rev. Canon Andrew Wright, Secretary General of the Mission to Seafarers, joined the call from his home in Oxford, UK to give greetings on behalf of the International Christian Maritime Association (ICMA). As Chair of ICMA, Andrew expressed thanks to NAMMA for its continuing relationship with ICMA and for sharing Dr. Zuidema's time as General Secretary of ICMA.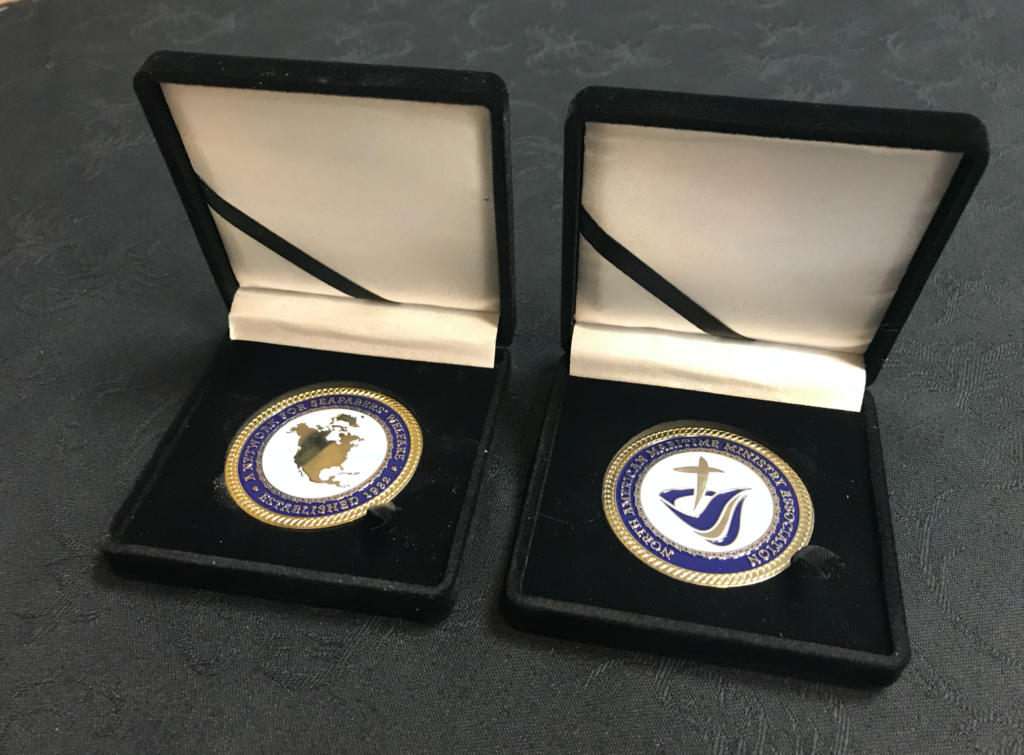 NAMMA also had a chance to honor some of those who have given significant support to seafarers and the NAMMA network. This year, the Distinguished Service Awards were presented to Karen M. Parsons OFS and to Kathleen "Kate" Hunt. Karen is Stella Maris chaplain in Galveston, Texas, having served now over 35 years in seafarers' ministry. Kate served as a seafarer and has been deeply involved in seafarers' labor representation for most of her career. Since 2014 Kate has also served as the Labor Representative on the Board of NAMMA. Both award recipients will receive a certificate and the special NAMMA Challenge Coin.
The meeting ended with a word from the incoming Board President, Dcn. Paul Rosenblum.
About NAMMA: With members in more than 50 ports around North America, NAMMA's mission is to support those in maritime ministry with professional development, fellowship, and advocacy. http://namma.org/