by Joel Holt, MNWB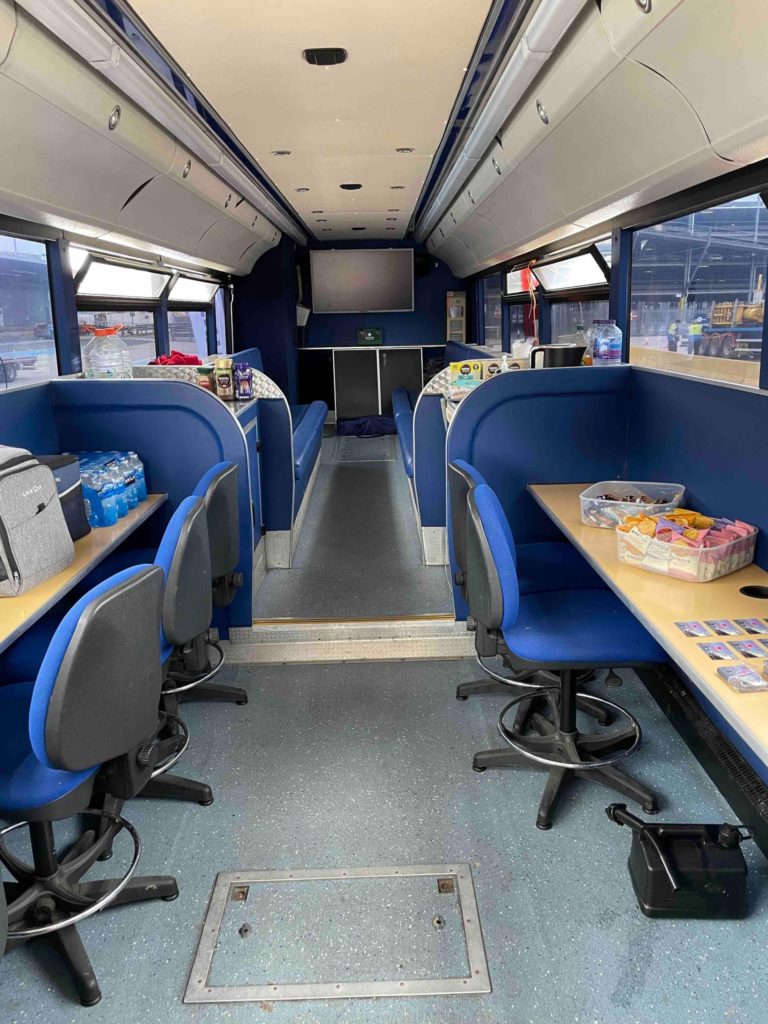 A bus has been transformed into a mobile seafarer centre for hundreds of seafarers to use in a major UK port.
The mobile seafarer centre is being trialled in the Port of Southampton on Thursday, August 17 and will be stationary in the Eastern Docks (38/9 berth), where hot and cold drinks, snacks and free WiFi will be available to seafarers throughout the day. There is also a TV on the bus and a place for them to relax.
Southampton-based chaplains, from fellow maritime charities Stella Maris, The Mission to Seafarers and Sailors' Society, will be on hand to provide support and services on the day.
The new initiative, organised and funded by leading Southampton maritime charity the Merchant Navy Welfare Board (MNWB), is part of a pilot project to see whether seafarers would welcome a mobile seafarers' centre within the port.
While there is a small centre in the port, the two main city centres in Queen's Terrace and East Street have previously closed.
Stuart Rivers, Chief Executive of MNWB which is the umbrella charity for the UK Merchant Navy and Fishing Fleets that provides support and co-operation to seafarers, fishers and their dependants, said:
"Seafarer centres have always been a central hub for seafarers to use in between shifts but 61% of major and minor ports do not have a centre."
"Working at sea can be a very lonely and isolated place as some seafarers spend months away from loved ones, with limited access to connectivity. Centres offer them a place to rest, and our new mobile centre offers something different for seafarers to enjoy.
"Throughout the day, it's imperative we hear the views of seafarers on centres and what they want when they visit ports like Southampton. If there's anything that can be done to enhance their experience, we want to know about it."
The mobile project vehicle was transformed earlier this year by Southampton & District Transport Heritage Trust, a volunteer-led organisation which preserves and restores former buses and vehicles across the city.
Thursday's event runs from 10am to 4pm and is being facilitated by ABP Ports, the Statutory and Competent Harbour Authority for Southampton port.
Tom Dynes, ABP Southampton General Manager, said:
"At ABP Southampton, we are proud to support this important initiative as we welcome seafarers from across the globe daily. The vessels arriving in Southampton are at sea for days on end, and it is crucial to provide a place for seafarers to go for support during their stay. I am keen to hear the views of the seafarers and look forward to seeing this initiative develop."
Southampton is the UK's number one vehicle handling port, processing 600,000 vehicles per year, welcoming two million passengers annually and is home to the UK's second largest container terminal.
Photos: MNWB Facebook
Read more on MNWB here: https://www.mnwb.org/news/converted-bus-set-for-mobile-seafarer-centre-trial-in-southampton/