by The Rev'd Ian Hutchinson Cervantes (Mission to Seafarers – Regional Director – Latin América and Port Chaplain – Panamá)
We inhabit a moment when war, pandemic, the politics of amoral "national (self) interest", and the desperate scrabble for "normality" banish the lifegiving Way, Truth, and Life to a twilight zone labelled "irrelevant". Franciscan Fr. Richard Rohr speaks of our being called to "remain (in)…the liminal space. In this place (we) are living on the threshold and this requires faith. (For) all transformation takes place in liminal space."
Liminal spaces and hopes of transformation are worth pondering. The photo above was taken at our wonderful UK Ambassador to Panamá, Tim Stew's residence. A reception was held last month to welcome our Mission to Seafarers Secretary General, Andrew Wright, and Pastor Matthias Ristau the Secretary General of the German Seaman's Mission (DSM). The DSM and MTS have signed an agreement to trial working together in Panamá hoping to expand this collaboration to other ports in the region. Andrew and Matthias' visit offered a unique opportunity to launch this new partnership known as: The Seafarers Mission-Panamá.
It was a reminder that Andrea Meenken, my DSM colleague, and I must navigate that liminal "space" between the spheres where power, money, and decision-making reside and that of seafarers, who wrestle with demanding work schedules, unreliable shipboard internet, the guilt of being absent spouses/parents, loneliness, boredom, danger, and huge pressures upon their mental and physical health.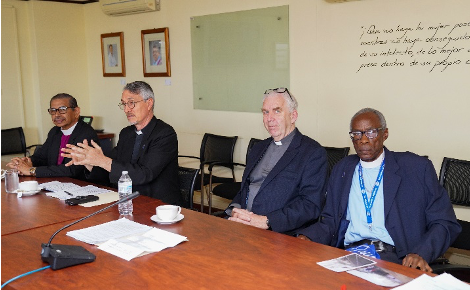 The relaxation of Covid-19 protocols has brought with it a return to overseas travel. Last October a colleague and I visited Costa Rica to try to find a way through some of the barriers that are holding back our fledgling ministry there. The progress we had hoped for did not materialise and, at our chaplain's suggestion, Andrew Wright and I met with the President of the Republic of Costa Rica's Commissioner for Inclusion, the Deputy Minister of Transport, and representatives of the Ministries of Foreign Affairs, Health, and Immigration. Fr. George Watts, our remarkable Chaplain, arranged a meeting at the "Casa Presidencial", Costa Rica's equivalent of Whitehall or the West Wing. We came away more hopeful that the authorities now have a better grasp of the issues facing seafarers visiting Costa Rica's ports and will engage with the Mission to Seafarers as partners in the provision of the pastoral and welfare services they need and deserve.
The promised life-giving transformation that liminal spaces offer us requires that we step beyond our "comfort zones" and do so in faith. Our son, Tomás' school requires that he undertake a "social action" project this year. Our other son, Nicolás, has been talking about our walking a stretch of the Camino de Santiago in Spain together for some years. The Camino is one of the oldest and most well-known pilgrimage routes in the world. A family conference brought it all together and we have decided that the three "boys" undertake a "sponsored walk" to pray for and to raise funds for the new partnership in Panamá. We are praying for GBP 10,000 for "The Seafarers Mission-Panamá". We will walk the 100+ kms between San Sebastian and Bilbao from the 14th – 21st of July and hope that you will accompany us with your prayers. If you would like to sponsor us, please, use the link below to the Gofundme page that Tomás has set up. He will also be posting updates and information about our ministry here in Panamá and from Spain: https://gofund.me/f5f41870
(article adapted with permission of author from April 28 newsletter to supporters)